MS Teams Provisioning – We love to support you
---
A major topic in the Office365 world is Microsoft Teams, and especially the provisioning of new MS Teams rooms. Now HanseVision provides a simple but smart solution for this scenario. I´m happy to introduce this solution here.
A common problem with Teams in company environments is "Should we allow all users create rooms in Teams on their own?" This question is not only about rooms but also about naming guidelines, templating and permissions, just to name few.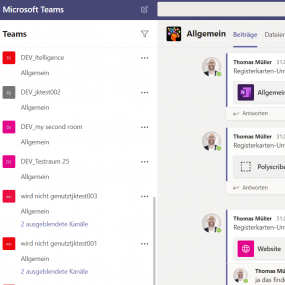 A solution for this is a well-structured provisioning process, where users are not able to create rooms by their own. Instead they are routed to a request form (hosted in SharePoint) where they can define their room metadata (like title, description), select one of the given template rooms and enter some other users as owner if needed.
The new created request will be sent to a configured controller/approver who will approve or reject it. After an approval, the request is processed and the room will be created, based on the template room, with all additional settings properly configured, with correct naming and so on.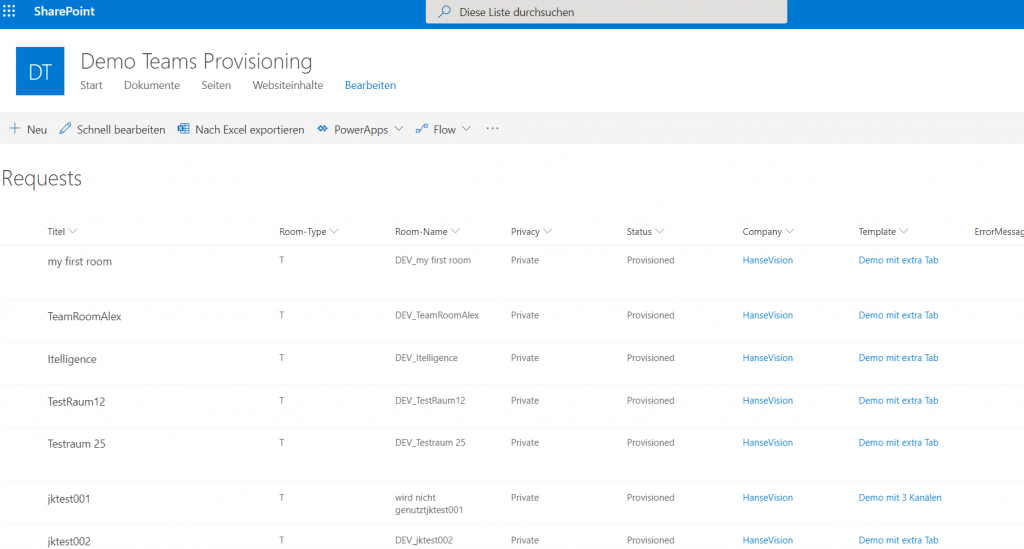 The solution based on SharePoint Online and Azure functions to process the request.
There are two further important lists inside the site collection where the request list is located. The template list hosts the names of the MS Teams templates, the prefixes (not required) and a user-friendly name to identify the template more easily. The controller/approver data is stored inside the second list, where divisions or other kinds of areas can be configured having a seperate approver.
To avoid manipulation of the request data by users who are not assigned to the current process step, the request list is hooked to an Azure function that will be triggered to manage the item level permissions.
Here comes a shot description of a request lifecycle. The first status after "Draft" is "In approval" and will send an email to the approver. After approval the status changes to "Approved", which will trigger a second Azure function to start the creation process of the room by cloning the template room.
If an error occurred during the provisioning process, an email will be sent to a configured administrator and the status in the related request will set to "Provisioning failed".
The advantages of this solution are:
Easy to use
Easy to configure
The usage of templates provides an additional level of flexibility, just design template rooms for departments, projects, or whatever. It´s totally on you.
Permission managefor each step
Last but not least, we avoid cost intensive resources from Azure (like Power Automate Connectors and so on), so the invest on a monthly basis is very low.
Please, contact us for more information: https://www.hansevision.com/kontakt.html